New World Order
Russian President, Medvedev, at G8, demonstrates the "United Future World Currency" coin
Our race is the Master Race
ADL President Abraham Foxman: speech about destruction of white race and ZioNazi world domination
Per 'The National Observer' via a document from Abe Foxman's [Jew A.D.L. president of USA] office.
Anti-Defamation League President Abraham Foxman in an appearance on August 25, 1998, made the following speech:
Antisemite President Bush dedicates the Victims of Communism Memorial
Iceland's peaceful revolution and imprisonment of bankers
Global media blackout story
Exclusive: Hate All Non-Jews, Skvere Rabbis Say
Confessions of an Ex-Luciferian Jew
I'm talking about myself. I'm not interested in the distinction between Luciferian and Satanist. Until the age of roughly 50, I was another mass-produced Luciferian Jew - Zionist, liberal, socialist and feminist.
Luciferian Jews are "revolutionaries," - people who deny and often defy God by overturning His design, the natural and moral order of the universe. They have defined the modern world, which is built on the ruins of religious "superstition."
I was 17 in 1966 and swept up in the anti-war movement. The American invasion of Vietnam was a heinous injustice that discredited everything the US pretended to represent.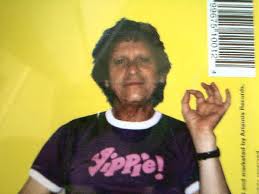 (left, Paul Krassner, making Eye of Horus)
Wally Wood's obscene "Disneyland Memorial Orgy" (shown above) published in Paul Krassner's Realist magazine expressed my outrage at society's fundamental hypocrisy. Snow White, the ideal of American innocence, was being ravished by the seven dwarfs. The WASP establishment were evil hypocrites.
Jewish revolutionaries like Paul Krassner and I were useful idiots. The Vietnam war was engineered by Illuminati Jews (Rockefeller, Rothschilds) partly to alienate a whole generation. The "WASP establishment" were their errand boys for some time. I was socially engineered. My mind was moulded. They manipulated me using my youth and idealism.
Illuminati social engineers promoted a powerful Jewish meme: the universe is unjust if they don't run it. You see Cabalist (Illuminati) Jews believe that God's will is expressed through them.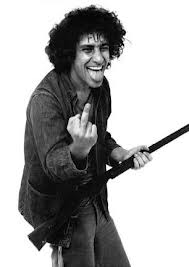 (left, Abbie Hoffman)
Throughout history, this demented ideology took the form of a desire to destroy the world and rebuild it in their own image. Thus, they fomented wars to destroy the Gentiles and concentrate money & power in their hands. They put the entire Gentile establishment in place -- mostly Freemason collaborators. Collaboration is a prerequisite for success in the public sphere today. Mankind is satanically possessed.
Their goal was to undermine wholesome virtues practised by their Christian neighbours. For example, they broke down all sexual restraint, labelling this (with their usual guile), "sexual liberation."
Even before the Vietnam war, I followed this Luciferian agenda. At age 15, I was almost thrown out of high school for buying a subscription to PLAYBOY for the school library. The story made the local newspaper, and the Principal was in hot water.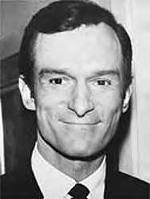 (Hugh the crypto-Jew?)
Little did I understand PLAYBOY magazine was crucial to the Luciferian goal of equating sex with the meaning of life. This contributed to society's current adolescent obsession with sex, and the breakdown of marriage and family.
I didn't understand that this satanic cult is hidden within Judaism. Judaism is a satanic cult (Cabala, Talmud) masquerading as a religion (Torah, Old Testament.) I had nothing to do with "Jewish teachings." I was secular. But secularism is Judaism: Materialism, and the denial of God.
Any true religion renounces the world, especially the pursuit of sex and money. Judaism encourages both. "Be successful children", my aunt used to say.
In true religion, like Christianity or Islam, God is universal. In Judaism, God (Lucifer) is exclusively Jewish. Non-Jews are considered animals intended to serve Jews. I didn't know this then. Most Jews don't. (The Real Talmud)
Although my intentions were pure, I was one of Satan's little helpers. Satan loves idealists.
"Useful idiots." he calls them. Millions have died believing satanic Judaism (Communism) really stood for "social justice and equality." These are tricks used to put their agents into power.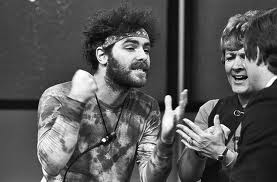 (Jerry Rubin, left)
SATANIC CULT
Modern history and culture is the story of man's induction into Satanism, i.e. Cabala Judaism. All that nonsense about God not existing, and man's "alienation" from God, is pure Satanism.
Since when do values like love, peace, beauty, truth and justice not exist? They inspire all human beings. Of course creation is infused with Intelligence. A minor example: When I stubbed my toe, my body grew a brand new toenail. I couldn't do that!
Every time I eat an orange or drink pure spring water, I know God exists. My friend's baby is an unfolding miracle. How can we deny God?
"Modernism" was engineered by Illuminati Jewish bankers as part of a long-term conspiracy to divorce us from God and enslave mankind.
"The modern age is the Jewish Age, and the Twentieth Century in particular is the Jewish Century," Professor Yuri Slezkine begins his book, The Jewish Century.
At the beginning of the twentieth century, "Jews began to see themselves as the real bearers of the Enlightenment..."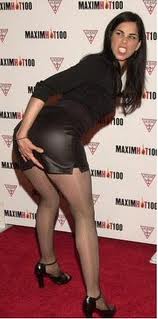 (The disgusting Sarah Silverman)
(The "Enlightenment" is where Illuminati-sponsored "great men" redefine reality.)
In Vienna in 1903, Solomon Ehrmann told a B'nai Brith (i.e. Freemason) meeting that the future was going to be fundamentally Jewish.
"All of mankind will have been Jewified and joined in unison with the B'nai Brith." (Lindemann, Esau's Tears, p. 331)
As I have said, like Lucifer, Cabalist Jews are metaphysical outcasts. This is the reason many Jews are so restless; they are "alienated" from God, i.e. their soul, or sense of Being. They constantly have to justify their existence.
In the words of Goethe, "No Jew, not even the most insignificant, but is busy towards the achievement of some worldly, temporary or momentary aim."
According to Werner Sombart, "This activity often enough degenerates into restlessness. He must forever be up and doing, forever managing something and carrying it to fruition. (Jews & Modern Capitalism)
Jews feel unloved because they deny God's Love. In order to finally feel loved, I had to write a syndicated column for 47 newspapers at age 11.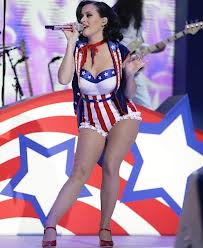 (Katy "I kissed a Girl" Perry performs at Obama inauguration. She says she "sold her soul to the devil" to become a star.)
CONCLUSION: CABALIST BLACK MAGIC
The Illuminati control the mass media and use it to induct us into their Cabalist nightmare. We become what we contemplate: violence, greed, lust (pornography,) homosexuality, and the occult. Art and entertainment are designed to remove us from historical reality. Does anyone believe the Oscar nominated Lincoln, written and directed by Illuminati Jews, tells us the true story? The real story, mankind's possession by a satanic secret society, is never told.
Mass media-control allows them to perform their Black Magic: Conjure wars, demolish iconic skyscrapers or murder children.
Jews need to disown the Satanists in their ranks or take the blame for them. (This applies to all groups). The days when Jews can pretend anti-Semitism is an irrational sickness are over.
Like my past self, most people are unwitting collaborators. Often, they are idealists. But it's never too late to acknowledge they were duped, and face reality.
Thanks to JA for a quote. ---
Related - Jim Stone - My Intro to the Jewish Community
Makow -- How Modern Kulture is Contrived
The Jewish Revolutionary Spirit
The NWO is the Satanic Agenda in a LITERAL Sense
Those that pursue the implementation of the NWO agenda since the ancient times are not the politicians even though they may be the rulers of the countries. The deepest core of it has "religious", occult and Satanic origins.
That is why you can see the Satanic symbology nearly everywhere. It is not just some "conspiracy theory" as all sorts of disinformation peddlers try to make it look like. No, it is literally and factually true, good enough to be used in court as evidence. The Masonic symbology is indeed present in Washington, DC. city layout, on the U.S. currency, and on any logo of any organization of any significance in the power structure.
Do not, even for a moment, think that all this is just invented by some paranoid lunatics and "conspiracy theorists". Else you will regret. INEVITABLY. You will loose your skin and will be burned in the sacrificial fire to Moloch. Inevitably so. And everything is already in place for that to happen. This very moment.
Here is its very roots as stated in Deuteronomy:
The incitements and allurements of Deuteronomy continue:
Then Moses, in this account, enumerates the "statutes and judgments" which must be "observed" if all these rewards are to be gained, and again "the Law" is to destroy:
The New Tzitz: The Golden Crown of the High Priest, has been created, all set for the NWO to be announced
Bilderberg Group 2013:
Guest list and agenda
(businessmen, politicians and defence officials)
The Bilderberg, the secretive annual gathering of businessmen, politicians and defence officials, today meets at The Grove hotel in Watford. This is the guest list and agenda in full.
By Matthew Holehouse
9:57AM BST 06 Jun 2013
The meeting will take place from 6 to 9 June at the Grove Hotel, Hertfordshire, with 140 delegates from 21 countries. The topics for discussion are:
Can the US and Europe grow faster and create jobs?
Jobs, entitlement and debt
How big data is changing almost everything
Nationalism and populism
Bilderberg Group 2014:
Official Guest list
Bilderberg Meetings
Copenhagen, Denmark 29 May - 1 June 2014
Current list of Participants
Status 26 May 2014
Exposing the Shadow "Elite" Controlling the World
So who really controls the world?
The Illuminati?
Freemasons?
The Bilderberg Group?
Or are these all red herrings to distract your prying eyes from the real global elite? The answer, like most topics worth exploring, is not quite so simple. Have no doubt, there are secretive global powers whose only goal is to keep and grow that power. But it really may not be as secretive as you would think. And that is what makes it even more nefarious.
But don't take my word for it, we have both science and insider testimony to back it up.
We are going to break this down into three categories: Financial, Political and Media. This is a harder task than you may imagine, since they all work in concert by design.
Financial Elite
Thanks to the science of complex system theory, the answer may actually be right in front of our faces. This scientific process sheds light on the dark corners of bank control and international finance and pulls some of the major players out from the shadows. It goes back to the old credo: Just follow the money. Systems theorist James B. Glattfelder did just that.
From a massive database of 37 million companies, Glattfelder pulled out the 43,060 transnational corporations (companies that operate in more than one country) that are all connected by their shareholders.
Digging further, he constructed a model that actually displays just how connected these companies are to one another through ownership of shares and their corresponding operating revenues.
See the globe chart bellow:
I will openly admit that this graphic almost scared me off. Complex scientific theories are not my forte, and this looks like some sort of intergalactic snow globe.
But Glattfelder has done a remarkable job of boiling these connections down to the main actors — as well as pinpointing how much power they have over the global market. These "ownership networks" can reveal who the key players are, how they are organized, and exactly how interconnected these powers are.
From New Scientist:
Each of the 1318 had ties to two or more other companies and, on average, they were connected to 20. What is more, although they represented 20% of global operating revenues, the 1318 appeared to collectively own, through their shares, the majority of the world's large blue chip and manufacturing firms—the "real" economy — representing a further 60% of global revenues.
When the team further untangled the web of ownership, it found much of it tracked back to a "superentity" of 147 even more tightly knit companies — all of their ownership was held by other members of the super-entity — that controlled 40% of the total wealth in the network.
According to his data, Glattfelder found that the top 730 shareholders control a whopping 80% of the entire revenue of transnational corporations. And — surprise, surprise! — they are mostly financial institutions in the United States and the United Kingdom. That is a huge amount of concentrated control in a small number of hands.
The Financial Deception
Here are the top ten transnational companies that hold the most control over the global economy (and if you are one of the millions that are convinced Big Banks run the world, you should get a creeping sense of validation from this list):
Some of the other usual suspects round out the top 25, including JP Morgan, UBS, Credit Suisse, and Goldman Sachs.
What you will not find are ExxonMobil, Microsoft, or General Electric, which I found shocking.
In fact, you have to scroll all the way down to China Petrochemical Group Company at number 50 to find a company that actually creates something.
The top 49 corporations are financial institutions, banks, and insurance companies — with the exception of Wal-Mart, which ranks at number 15.
The rest essentially just push money around to one another.
Here is the interconnectedness of the top players in this international scheme:
Here is a fun fact about the number one player, Barclays:
Barclays was a main player in the LIBOR manipulation scandal, and were found to have committed fraud and collusion with other interconnected big banks. They were fined $200 million by the Commodity Futures Trading Commission, $160 million by the United States Department of Justice and £59.5 million by the Financial Services Authority for "attempted manipulation" of the Libor and Euribor rates.
Despite their crimes, Barclays still paid $61,781,950 in bonuses earlier this year, including a whopping $27,371,750 to investment banking head Rich Ricci. And yes, that's actually his real name.
These are the guys that run the world.
It is essentially the "too big to fail" argument laid out in a scientific setting — only instead of just the U.S. banks, we are talking about an international cabal of banks and financial institutions so intertwined that they pose a serious threat to global economics. Instead of "too big to fail," we are looking at "too connected to fail".
Glattfelder contends that "a high degree of interconnectivity can be bad for stability, because stress can spread through the system like an epidemic."
Industrialist Henry Ford once quipped, "It is well enough that people of the nation do not understand our banking and money system, for if they did, I believe there would be a revolution before tomorrow morning."
It is one thing to have suspicions that someone is working behind the scenes to control the world's money supply. It is quite another to have scientific evidence that clearly supports it. But these guys can only exist within a political system that supports their goals. And those political systems are pretty much operating in the open.
Political Elite
For the sake of brevity, let us cut right to the chase. Every major geopolitical decision of the last few decades has been run through one of these three organizations: the Trilateral Commission, the Council on Foreign Relations and the World Bank/International Monetary Fund (IMF).
An IMF whistle blower has admitted that the IMF was deeply involved in global fraud and contends that "the public doesn't really know what's going on and... we do not have a democracy." (This will be covered in a future article).
The Trilateral Commission
In 1973, the infamous David Rockefeller created a group of the world's power brokers to work together — outside of any official governmental or political allegiance — to bring about cooperation of North America, Western Europe and Japan. They launched under the guise of working together to solve the world's problems. A noble goal — but "problems" are very subjective.
Here is the rundown of members:
The North American continent is represented by 120 members (20 Canadian, 13 Mexican and 87 U.S. citizens).
The European group has reached its limit of 170 members from almost every country on the continent; the ceilings for individual countries are 20 for Germany, 18 for France, Italy and the United Kingdom, 12 for Spain and 1-6 for the rest.
At first, Asia and Oceania were represented only by Japan. However, in 2000, the Japanese group of 85 members expanded itself, becoming the Pacific Asia group, composed of 117 members: 75 Japanese, 11 South Koreans, 7 Australian and New Zealand citizens, and 15 members from the ASEAN nations (Indonesia, Malaysia, Philippines, Singapore and Thailand). The Pacific Asia group also included 9 members from China, Hong Kong and Taiwan. Currently, the Trilateral Commission claims "more than 100" Pacific Asian members.
It is a global who's-who of power brokers. While the Trilateral Commission excludes anyone currently holding public office from membership, it serves as a revolving door of the rich and powerful from the financial, political and academic elite.
Most suspicions of the group began during the Jimmy Carter administration, when Carter — himself a member of the Trilateral Commission — made Zbigniew Brzezinski his National Security advisor. Brzezinski was the Trilateral Commission's first executive director.
Carter's Vice President Walter Mondale was also a member. Perhaps most importantly, Trilateral member Paul Volker served as Carter's Chair of the Federal Reserve. He is still the North American Honorary Chairman.
Such a concentration of power in a U.S. president's cabinet obviously made people nervous.
Notable recent additions include Austan Goolsbe — former chairman for Obama's Council of Economic Advisors. I would suggest you familiarize yourselves with the entire member list here. You will be shocked at who else is part of this secretive organization.
And we haven't yet talked about the rest of the financial global elite: the Council on Foreign Relations, the International Monetary Fund, and the World Bank.
One Bank to Rule Them All: World Bank Whistle-blower Reveals Bank Conspiracy
Note: This is not some wild conspiracy theory. It's systems theory, a serious scientific discipline, used by researcher James B. Gladfelder to prove that a small group of banks essentially control the world's finances.
Gladfelder's research proved that the top 730 shareholders control a whopping 80% of the entire revenue of transnational corporations.
But the truth is the global banking elite simply cannot maintain a stranglehold on the world's power all by themselves. And so, while they run off with the money, their lackeys in the political sphere acts as gatekeepers.
Again, we're not relying on labyrinthine explanations and vague fears of domination; we're looking at the matter through scientific discipline and actual admissions from the power brokers themselves.
The fact is we simply cannot talk about global control without talking about the World Bank…
The World Bank represents 188 different countries from Albania to Zimbabwe. However, it is controlled by a small number of powerful countries, each with its own serious economic interests.
Since there is no voting for the leadership and chief economists at the bank, the United States and other large countries have complete control to appoint who they'd like to do their bidding — and they have appointed some highly questionable folks to run the behemoth:
Robert McNamara – JFK's former secretary of defense and president of Ford Motor Company was chosen to lead the Bank in 1968, fresh off his disastrous handling of the Vietnam War.
Lewis T. Preston – a bank executive with J.P. Morgan. We all know J.P. Morgan doesn't have the interest of the working poor at heart, as evidenced by years of abuse of regular folks, culminating in their record $13 billion fine this year.
Robert Zoellick – a bank executive with Goldman Sachs. Again, if the head of Goldman Sachs is at the helm, you know the bidding of the powerful will get its due… After all, you don't earn a nickname like "The Great Vampire Squid" for your altruism.
Paul Wolfowitz – Much like McNamara, Wolfowitz was handed the reigns to the World Bank after helping orchestrate George Bush's outrageous war on Iraq. While president of the Bank, he gave his girlfriend massive pay raises — more than double what she was entitled to!
The fact that the head of the World Bank could engage in such petty corruption doesn't bode well for the bank at large, considering the immense power they wield. Wolfowitz was eventually forced to resign.
Perhaps more alarmingly, the World Bank also receives complete immunity from any and all countries it does "business" with, so it cannot be held legally accountable for its actions.
The United States has complete veto power over the Bank's actions as well, which it can use to block any action by the Bank that may threaten national interests — and the interests of the global financial powers that control them.
The World Bank's stated purpose is to help poor and developing countries by providing loans.
The catch? To obtain one of these loans, you have to comply with the Bank's draconian wish lists.
Examples of the conditions countries must meet to gain access to a loan include suppressing wages, cutting programs like education and health care, and easing limits on foreign investment.
How do the results stack up with its stated mission?
Not well. In fact, data shows most countries that have taken the World Bank's money and agreed to its terms are no better off today then they were when they received their first loan — and many are actually worse off.
From the Heritage Foundation:
Of the 66 less-developed countries receiving money from the World Bank for more than 25 years (most for more than 30 years), 37 are no better off today than they were before they received such loans.
Of these 37 countries, most (20 in all) are actually poorer today than they were before receiving aid from the Bank.
Former less-developed countries that have prospered over the past 30 years did so by freeing up the productive forces of their economies. The best examples are Hong Kong and Singapore: Even though a country like Singapore received a small amount of money from the World Bank, the evidence shows that what most affected economic growth was not World Bank aid, but economic freedom.
What's more, an ex-World Bank employee described something far more nefarious than ineptitude…
Karen Hudes watched first-hand as the World Bank manipulated and covered up corruption in its economic development projects.
It's important to know Hudes wasn't some disgruntled lackey; she served as Senior Counsel and worked for the bank for 20 years. During those two decades at the World Bank, Hudes saw systematic and widespread corruption.
"It's a mafia," she told the New American.
"These culprits that have grabbed all this economic power have succeeded in infiltrating both sides of the issue, so you will find people who are supposedly trying to fight corruption who are just there to spread disinformation and as a placeholder to trip up anybody who manages to get their act together. Those thugs think that if they can keep the world ignorant, they can bleed it longer."
Hudes saw large-scale enrichment of the powerful, while the poor the Bank was supposed to be helping were getting stiffed.
"I realized we were now dealing with something known as state capture, which is where the institutions of government are co-opted by the group that's corrupt," she noted.
Hudes was eventually fired after she spoke out against the Bank's attempt to cover up a botched bailout of a crooked bank in the Philippines.
Here are a few choice examples of what happens to the $2.5 billion in U.S. taxpayer money that is funneled into the World Bank each and every year, from the American Enterprise Institute:
38 countries have amassed $71 billion in unpayable multilateral loans, encouraged by the Bank's self-serving projections of country growth, on which rich-country taxpayers must now make good.
Corruption has been exposed both within the World Bank and in its programs, and is now estimated at more than $100 billion.
Protest is rising among leading African scholars who seek to stop all aid because it serves only to entrench and enrich a series of corrupt elites. Massive anecdotal evidence of waste, ineptitude, and outright theft can no longer be ignored.
Not exactly the poverty-fighting superhero the institution makes itself out to be.
The World Bank works in conjunction with the International Monetary Fund, which operates in the same vein of enriching Wall Street and supporting dictators.
By Jimmy Mengel, Outsider Club;
Source:
http://humansarefree.com/2013/12/exposing-shadow-elite-controlling-world.html;
BILDERBERG SECRETS EXPOSED
- WHAT ARE THEY PLANNING NEXT?
May 19, 2014
For over 14 years, Daniel Estulin has investigated and researched the Bilderberg Group's far-reaching influence on business and finance, global politics, war and peace, and control of the world's resources and its money.His book, "The True Story of the Bilderberg Group," was published in 2005 and is now updated in a new 2009 edition.
He states that in 1954, "the most powerful men in the world met for the first time" in Oosterbeek, Netherlands, "debated the future of the world," and decided to meet annually in secret.
Anchor
They called themselves the "Bilderberg Group" with a membership representing a who's who of world power elites, mostly from America, Canada, and Western Europe with familiar names like:
David Rockefeller, Henry Kissinger, Bill Clinton, Gordon Brown, Angela Merkel, Alan Greenspan, Ben Bernanke, Larry Summers, Tim Geithner, Lloyd Blankfein, George Soros, Donald Rumsfeld, Rupert Murdoch, other heads of state, influential senators, congressmen and parliamentarians, Pentagon and NATO brass, members of European royalty, selected media figures, and invited others – some quietly by some accounts like Barack Obama and many of his top officials.
(Here is the complete list of members as of 2013);
Always well represented are top figures from the Council on Foreign Relations (CFR), IMF, World Bank, Trilateral Commission, EU, and powerful central bankers from the Federal Reserve, the ECB's Jean-Claude Trichet, and Bank of England's Mervyn King.
For over half a century, no agenda or discussion topics became public nor is any press coverage allowed. The few invited fourth estate attendees and their bosses are sworn to secrecy. Nonetheless, Estulin undertook "an investigative journey" that became his life's work.
He states:
As a result, he keeps their names confidential.
Whatever its early mission, the Group is now "a shadow world government threaten(ing) to take away our right to direct our own destinies (by creating) a disturbing reality" very much harming the public's welfare.
In short, Bilderbergers want to supplant individual nation-state sovereignty with an all-powerful global government, corporate controlled, and check-mated by militarized enforcement.
Early in its history, Bilderbergers decided "to create an 'Aristocracy of purpose' between Europe and the United States (to reach consensus to rule the world on matters of) policy, economics, and (overall) strategy." NATO was essential for their plans – to ensure "perpetual war (and) nuclear blackmail" to be used as necessary. Then proceed to loot the planet, achieve fabulous wealth and power, and crush all challengers to keep it.
Read: Exposing the Shadow "Elite" Controlling the World;
Along with military dominance, controlling the world's money is crucial for with it comes absolute control as the powerful 19th century Rothschild family understood.
As the patriarch Amschel Rothschild once said:
Read: The Complete History Of The 'House Of Rothschild';
Bilderbergers comprise the world's most exclusive club. No one buys their way in. Only the Group's Steering Committee decides whom to invite, and in all cases participants are adherents to One World Order governance run by top power elites.
According to Steering Committee rules:
Membership consists of annual attendees (around 80 of the world's most powerful) and others only invited occasionally because of their knowledge or involvement in relevant topics. Those most valued are asked back, and some first-timers are chosen for their possible later usefulness.
Arkansas governor Bill Clinton, for example, who attended in 1991:
Numerous other examples are similar, including who gets chosen for powerful government, military and other key positions.
Bilderberg Objectives
The Group's grand design is for "a One World Government (World Company) with a single, global marketplace, policed by one world army, and financially regulated by one 'World (Central) Bank' using one global currency." Their "wish list" includes:
Secret Bilderberg Partners
In the US, the Council on Foreign Relations (CFR) is dominant. One of its 1921 founders, Edward Mandell House, was Woodrow Wilson's chief advisor and rumored at the time to be the nation's real power from 1913 – 1921.
On his watch, the Federal Reserve Act passed in December 1913 giving money creation power to bankers, and the 16th Amendment was ratified in February creating the federal income tax to provide a revenue stream to pay for government debt service.
From its beginnings, CFR was committed to "a one-world government based on a centralized global financing system." Today, CFR has thousands of influential members (including important ones in the corporate media) but keeps a low public profile, especially regarding its real agenda.
Historian Arthur Schlesinger, Jr. called it a "front organization (for) the heart of the American Establishment." It meets privately and only publishes what it wishes the public to know. Its members are only Americans.
The Trilateral Commission (discussed below) is a similar group that "brings together global power brokers." Founded by David Rockefeller, he's also a leading Bilderberger and CFR Chairman Emeritus, organizations he continues to finance and support.
Their past and current members reflect their power:
– top officials of the FBI, CIA, NSA, defense establishment, and other leading government agencies, including state, commerce, the judiciary and treasury.
For its part, "CFR has served as a virtual employment agency for the federal government under both Democrats and Republicans." Whoever occupies the White House, "CFR's power and agenda" have been unchanged since its 1921 founding.
It advocates a global superstate with America and other nations sacrificing their sovereignty to a central power. CFR founder Paul Warburg was a member of Roosevelt's "brain trust."
In 1950, his son, James, told the Senate Foreign Relations Committee: "We shall have world government whether or not you like it – by conquest or consent."
Later at the 1992 Bilderberg Group meeting, Henry Kissinger said:
CFR planned a New World Order before 1942, and the "UN began with a group of CFR members called the Informal Agenda Group." They drafted the original UN proposal, presented it to Franklin Roosevelt who announced it publicly the next day. At its 1945 founding, CFR members comprised over 40 of the US delegates.
Domhoff added:
The Rockefeller, Carnegie, and Ford Foundations to name three, and they're directed by key corporate officials.
Dominant Media Partners
Former CBS News president Richard Salant (1961 – 64 and 1966 – 79) explained the major media's role:
Read related: Fox News Can Legally LIE Its Viewers – Seriously;
CBS and other media giants control everything we see, hear and read – through television, radio, newspapers, magazines, books, films, and large portions of the Internet. Their top officials and some journalists attend Bilderberg meetings – on condition they report nothing.
The Rockefeller family wields enormous power, even though its reigning patriarch, David, will be 94 on June 12 and surely near the end of his dominance.
However, for years "the Rockefellers (led by David) gained great influence over the media. (With it) the family gained sway over public opinion. With the pulse of public opinion, they gained deep influence in politics. And with this politics of subtle corruption, they are taking control of the nation" and now aim for total world domination.
The Bilderberger-Rockefeller scheme is to make their views "so appealing (by camouflaging them) that they become public policy (and can) pressure world leaders into submitting to the 'needs of the Masters of the Universe.'" The "free world press" is their instrument to disseminate "agreed-upon propaganda."
CFR Cabinet Control
"The National Security Act of 1947 established the office of Secretary of Defense." Since then, 14 DOD secretaries have been CFR members.
Since 1940, every Secretary of State, except James Byrnes, has been a CFR member and/or Trilateral Commission (TC) one.
For the past 80 years, "Virtually every key US National Security and Foreign Policy Advisor has been a CFR member.
Nearly all top generals and admirals have been CFR members.
Many presidential candidates were/are CFR members, including Herbert Hoover, Adlai Stevenson, Dwight Eisenhower, John Kennedy, Richard Nixon, Gerald Ford, Jimmy Carter (also a charter TC member), George HW Bush, Bill Clinton, John Kerry, and John McCain.
Numerous CIA directors were/are CFR members, including Richard Helmes, James Schlesinger, William Casey, William Webster, Robert Gates, James Woolsey, John Deutsch, George Tenet, Porter Goss, Michael Hayden, and Leon Panetta.
Many Treasury Secretaries were/are CFR members, including Douglas Dillon, George Schultz, William Simon, James Baker, Nicholas Brady, Lloyd Bentsen, Robert Rubin, Henry Paulson, and Tim Geithner.
When presidents nominate Supreme Court candidates, the CFR's "Special Group, Secret Team" or advisors vet them for acceptability. Presidents, in fact, are told who to appoint, including designees to the High Court and most lower ones.
According to sociologist Hadley Cantril in his 1967 book, " The Human Dimension – Experiences in Policy Research":
Canadian writer Ken Adachi (1929 – 1989) added:
And noted Australian academic and activist Alex Carey (1922 – 1988) explained the three most important 20th century developments:
Web of Control
Numerous think tanks, foundations, the major media, and other key organizations are staffed with CFR members. Most of its life-members also belong to the TC and Bilderberg Group, operate secretly, and wield enormous power over US and world affairs.
The Rockefeller-Founded Trilateral Commission (TC)
On page 405 of his Memoirs, David Rockfeller wrote:
In alliance with Bilderbergers, the TC also "plays a vital role in the New World Order's scheme to use wealth, concentrated in the hands of the few, to exert world control." TC members share common views and all relate to total unchallengeable global dominance.
Founded in 1973 and headquartered in Washington, its powerful US, EU and East Asian members seek its operative founding goal – a "New International Economic Order," now simply a " New World Order" run by global elites from these three parts of the world with lesser members admitted from other countries.
Committee members meet several times annually to discuss and coordinate their work. The Executive Committee chooses members, and at any time around 350 belong for a three-year renewable period.
Everyone is a consummate insider with expertise in business, finance, politics, the military, or the media, including past presidents, secretaries of state, international bankers, think tank and foundation executives, university presidents and selected academics, and former senators and congressmen, among others.
Although its annual reports are available for purchase, its inner workings, current goals, and operations are secret – with good reason. Its objectives harm the public so mustn't be revealed. Trilaterals over Washington author Antony Sutton wrote:
In her book, Trilateralism: The Trilateral Commission and Elite Planning for World Management, Holly Sklar wrote:
Trilateralist Zbigniew Brzezinski (TC's co-founder) wrote in his Between Two Ages – America's Role in the Technotronic Era:
He added that "Trilateralists have rejected the US Constitution and the democratic political process." In fact, TC was established to counter a "crisis in democracy" – too much of it that had to be contained.
An official TC report was fearful about "the increased popular participation in and control over established social, political, and economic institutions and especially a reaction against the concentration of power of Congress and of state and local government."
To address this, media control was essential to exert "restraint on what newspapers may publish (and TV and radio broadcast)." Then according to Richard Gardner in the July 1974 issue of Foreign Affairs (a CFR publication):
CFR's leadership must make "an end run around national sovereignty, eroding it piece by piece," until the very notion disappears from public discourse.
Bilderberg/CFR/Trilateralist success depends on finding "a way to get us to surrender our liberties in the name of some common threat or crisis. The foundations, educational institutions, and research think tanks supported by (these organizations) oblige by financing so-called 'studies' which are then used to justify their every excess. The excuses vary, but the target is always individual liberty. Our liberty" and much more.
Bilderbergers, Trilateralists and CFR members want "an all-encompassing monopoly" – over government, money, industry, and property that's "self-perpetuating and eternal." In Confessions of a Monopolist (1906), Frederick C. Howe explained its workings in practice:
In the Rockefeller File, Gary Allen wrote:
David Rockefeller learned the same thing from his father, John D., Jr. who learned it from his father, John D. Sr. They hated competition and relentlessly strove to eliminate it – for David on a global scale through a New World Order.
In the 1970s and 1980s, Trilateralists and CFR members collaborated on the latter's "1980 Project," the largest ever CFR initiative to steer world events "toward a particular desirable future outcome (involving) the utter disintegration of the economy." Why so is the question?
Because by the 1950s and 1960s, worldwide industrial growth meant more competition. It was also a model to be followed, and "had to be strangled in the cradle" or at least greatly contained. In America as well beginning in the 1980s. The result has been a transfer of wealth from the poor to the rich, shrinkage of the middle class, and plan for its eventual demise.
The North American Union (NAU)
The idea emerged during the Reagan administration in the early 1980s. David Rockefeller, George Schultz and Paul Volker told the president that Canada and America could be politically and economically merged over the next 15 years except for one problem – French-speaking Quebec.
Their solution – elect a Bilderberg-friendly prime minister, separate Quebec from the other provinces, then make Canada America's 51st state. It almost worked, but not quite when a 1995 secession referendum was defeated – 50.56% to 49.44%, but not the idea of merger.
At a March 23, 2005 Waco, Texas meeting, attended by George Bush, Mexico's Vincente Fox, and Canada's Paul Martin, the Security and and Prosperity Partnership (SPP) was launched, also known as the North American Union (NAU).
It was a secretive Independent Task Force of North America agreement – a group organized by the Canadian Council of Chief Executives (CCCE), the Mexican Council on Foreign Relations, and CFR with the following aims:
– proposing greater US, Canadian and Mexican economic, political, social, and security integration with secretive working groups formed to devise non-debatable, not voted on agreements to be binding and unchangeable.
In short – a corporate coup d'etat against the sovereignty of three nations enforced by hard line militarization to suppress opposition.
If enacted, it will create a borderless North America, corporate controlled, without barriers to trade or capital flows for business giants, mainly US ones and much more – America's access to vital resources, especially oil and Canada's fresh water.
Secretly, over 300 SPP initiatives were crafted to harmonize the continent's policies on energy, food, drugs, security, immigration, manufacturing, the environment, and public health along with militarizing three nations for enforcement.
SPP represents another step toward the Bilderberg/Trilateralist/CFR goal for World Government, taking it one step at a time. A "United Europe" was another, the result of various treaties and economic agreements:
The EU and NAU share common features:
Steps Toward a North American Union
Secretive negotiations continue. Legislative debate is excluded, and public inclusion and debate are off the table. In May 2005, the CFR Independent Task Force on the Future of North America published a follow-up report titled Building a North American Community – proposing a borderless three-nation union by 2010.
In June and July 2005, the Dominican Republic – Central America Free Trade Agreement (DR-CAFTA) passed the Senate and House establishing corporate-approved trade rules to further impoverish the region and move a step closer to continental integration.
In March 2006, the North American Competitiveness Council (NACC) was created at the second SPP summit in Cancun, Mexico. Composed of 30 top North American CEOs, it serves as an official trilateral SPP working group.
Secret business and government meetings continue so there's no way to confirm SPP's current status or if Barack Obama is seamlessly continuing George Bush's agenda. In an earlier article, this writer said:
SPP efforts paused during the Bush to Obama transition, but "deep integration" plans remain. Canada's Fraser Institute proposed renaming the initiative the North American Standards and Regulatory Area (NASRA) to disguise its real purpose. It said the "SPP brand" is tarnished so re-branding is essential – to fool the public until it's too late to matter.
Insights into the 2009 Bilderberg Group Meeting
From May 14 – 17, Bilderbergers held their annual meeting in Vouliagmeni, Greece, and according to Daniel Estulin have dire plans for global economies.
According to his pre-meeting sources, they're divided on two alternatives:
Other agenda items included:
After the meeting, Estulin got a 73-page report on what was discussed:
There was a combination of agreement and fear that the situation remains dire and the worst of the crisis lies ahead, mainly because of America's extreme debt level that must be resolved to produce a healthy, sustainable recovery.
Topics also included:
In the past, Estulin's sources proved accurate. Earlier, he predicted the housing crash and 2007 – 2008 financial market decline, preceded by the kind of financial crisis triggered by the Lehman Brothers collapse. Watch for further updates from him as new information leaks out on what the world's power elites have planned going forward. – See more at:
http://humansarefree.com/2014/03/bilderberg-secrets-exposed-what-are.html#sthash.wozemIJN.dpuf
http://www.pakalertpress.com/2014/05/19/bilderberg-secrets-exposed-what-are-they-planning-next/
Source:
http://www.fourwinds10.net/siterun_data/government/new_world_order/news.php?q=1400680750